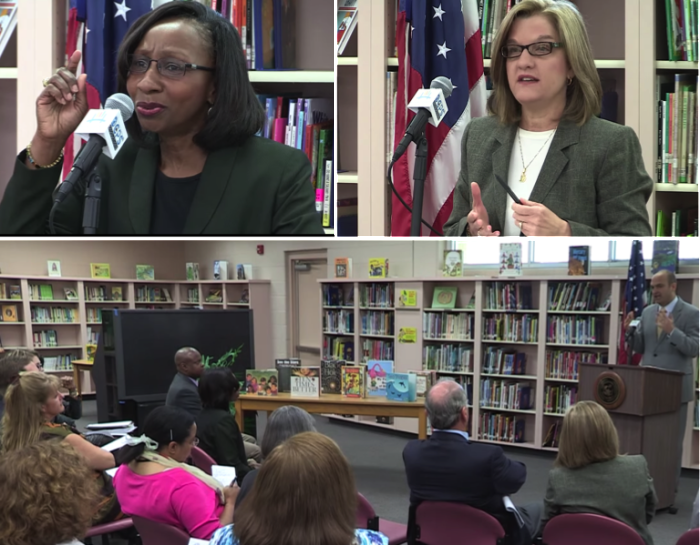 On Thursday, April 10, members of the media gathered for a press conference on the Quality Education for All Fund. An outline of the programmatic investments was shared, and speakers passionately made the case for why these investments will be targeted at 36 of the county's highest-need schools. Speakers included Wayne Weaver, Chairman of the QEA Fund Advisory Board; DCPS Superintendent Nikolai Vitti; Nina Waters, President of The Community Foundation for Northeast Florida, School Board Chair Becki Couch, School Board Member Paula Wright, Rutledge Pearson Elementary School teacher Frank Graham, and others.
Speakers and attendees were emotional as they described the commitment to students who most need our city's help in achieving their full potential.
See below for stories about the QEA Fund, or watch a snapshot of the press conference online at http://ow.ly/x4f93.
First Coast News http://www.firstcoastnews.com/story/news/education/2014/04/10/new-teacher-incentive-pay-plan-for-urban-schools-duval-county/7563261/
WJCT 89.9 FM
http://news.wjct.org/post/agreement-between-duval-schools-teachers-union-clears-path-incentive-pay-program
http://news.wjct.org/post/quest-quality-part-i-laying-groundwork
http://news.wjct.org/post/quest-quality-part-ii-mending-broken-trust
 http://news.wjct.org/post/quest-quality-part-iii-sustaining-progress
News 4 Jax WJXT
http://www.news4jax.com/news/best-teachers-given-incentives-to-work-in-lowestperforming-schools/25419646
The Florida Times-Union
http://members.jacksonville.com/news/metro/2014-04-10/story/60000-lure-and-keep-top-teachers-poor-performing-schools